The suddenness of weather changes in the UK should not surprise anyone; least of all those of us whose sport or work. So, when she blankets our hills with snow, our senses are heightened to enable our skills of judgement and decision-making to work harder.
Unfortunately, Winter still holds the upper hand and she strikes wherever and whenever. This weekend's mobilisation of Scottish Mountain Rescue tells it's own tale - Braemar & Aberdeen MRT aided by Coastguard 951.
Whilst on The Ben,
Ben Nevis & Lochaber MRT
also with 951.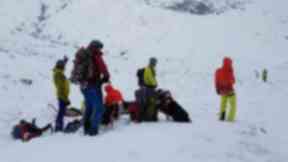 Like all Professional mountaineers, I strongly advocate attending quality training in Winter Mountaineering. Here's a small list of my colleagues whose experience, expertise and engaging courses are a 'must' for anyone journeying amongst our hills, crags and cliffs in Winter.
Andy Spink
Alan Halewood
Di Gilbert
Mike Pescod
....there are numerous other fantastic women and men who are equally experienced and qualified to provide you with exceptional tuition.
Look them up through these links.
Association of Mountaineering Instructors
Mountaineering Instructors Certificate Holders
The UK's two National Outdoor & Mountain Centres also provide unbeatable instruction, facilities and courses suited to your participation in mountaineering.
Glenmore Lodge, Aviemore
Plas y Brenin, North Wales